District Netball Champions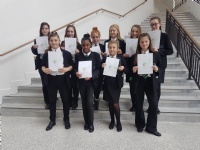 On Thursday 15th June, TCA year 7 netball team attended a qualifying tournament at Witchford. We are extremely pleased to report that the team won the tournament and have been crowned as Dictrict Champions as well as Isle of Ely Champions.
This team will now represent the district at the Summer School Games on 29th June where they will compete against the best schools from other counties.
This is an exceptional achievement and we are very proud of them all. The team consisted of the following students:
1. MEGAN ALLEN
2. TIA ONSLOW
3. CHANTELLE LOTT
4. TARRYN KIRBY
5. CHANTELLE LLOYD
6. CHELSEA HANDLEY
7. SIAN CUNDELL
8. SHARON AKINREFON
9. MAISIE STRATTON
10. KYIA HOLMES