Programme for Higher Ability Students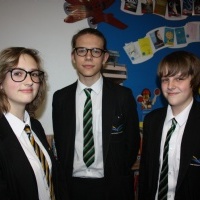 Higher ability students who have been taking part in a programme designed to challenge and motivate them are looking forward to another year of thought-provoking events and activities.
Higher ability students who have been taking part in a programme designed to challenge and motivate them are looking forward to another year of thought-provoking events and activities.
The Kroto and Sigma programme was set up for all year groups last September to offer extra opportunities for students who either scored well in Key Stage 2 tests for reading and maths, or who have been identified by staff as having higher ability.
The scheme is named after Sir Harold Kroto, who was born in Wisbech in 1939 to refugee parents and went on to win the Nobel Prize for Chemistry for the discovery of 'buckyballs'.
Last year, the Kroto programme saw around 200 students across all year groups take part in special events and challenges, assemblies and trips to universities for older students.
Assemblies under the banner of 'aspiration, inspiration and education' have covered topics including STEM (Science, Technology, Engineering and Maths), time management and applying for university.
In addition, company Motivational Mind Maps paid a visit and looked at each student's preferred learning style and what motivates them. This generated personalised reports to inform teachers and parents how best to support students in the upcoming academic year.
With support from TCA's CEIAG team (Careers, Education, Information, Advice and Guidance), there were a number of trips, including an archaeological dig organised through the University of Cambridge, a trip to the Globe theatre and a visit to the University of Oxford.
In school, staff have been busy setting extra challenges for TCA's most gifted students, including a Grade 9 maths challenge where a different question was posted on a noticeboard each week. Students were challenged to find out the answer themselves, with the aim of encouraging them to start aiming higher while using maths they had not encountered before.
Students were supported further through the introduction of a silent study pass, which was set up at the request of students to allow them access to areas to concentrate on their work between lessons.
The year's events culminated with a special celebration at the end of the summer term, when awards were handed out for progress or for outstanding work.
Kroto and Sigma Programme Leader Liz Taylor said: "I think the programme has opened the students' eyes to what they can do. The students have really embraced it and there's definitely been a sense of wanting to be in Kroto. Other students have wanted to know how they can get onto the programme and they have worked hard to try and be part of it."
Kroto student Gvidas Grikietis, who is in Year 11, took part in an archaeological dig with the University of Cambridge and achieved a grade B in a 3,000-word report of the dig along with two As in his practicals.
He said: "What's good about Kroto is the sense of community and the concept that you're cared about, and that your learning is cared about. The programme gives you choices and opportunities.
"Visiting universities makes it more realistic - I didn't really know what university life would be like so it's inspired me even more. It's shown me if you work hard, you can get there."
Another Year 11 student, Anna Ivaskevica, added: "Kroto offers experiences that you might not have otherwise. Our visits to universities made university life less scary because it showed how much support there is."
This month, an introduction to Kroto evening took place for parents of Year 7 students who will be joining the programme.
Upcoming events include:
Tuesday 17th October - Getting the higher grades at GCSE, for Year 9 and 10 students and parents
Tuesday 21st November at 7pm - Kroto and Sigma awards evening.