Motivational Speakers Inspire Students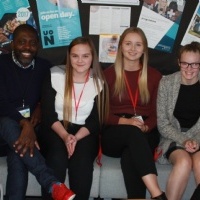 A busy first few weeks at TCA have helped students hit the ground running, with talks from three visiting speakers.
A busy first few weeks at TCA have helped students hit the ground running, with talks from three visiting speakers.
Students in Key Stages 4 and 5 heard from David McQueen, a motivational speaker who works internationally with schools and businesses. Using humour and honesty, David stressed to students how important it is to start preparing early for exams. He suggested breaking nightly revision into half-hour sessions and that better preparation helps to reduce stress. David also explained to students that they are responsible for their outcomes and the importance of supporting each other as a year group.
Another speaker, celebrity chef and presenter Mark Lloyd, addressed Key Stage 4 students and explained his journey from a troubled home life to appearances on television shows including River Cottage and Hairy Bikers. Mark opened up about his background, which saw him placed into care when he was six and included a history of getting into trouble at school.
Mark explained to students that he had a realisation one day he could be in control of his life and that he did not want to follow the negative path he was being led down.
Lisa Tarsitano, Raising Standards Leader for Year 11, said: "Mark stressed to students that to be good at anything in life you have to work hard - anyone who thinks you just wake up one day and become successful is delusional.
"He told them it takes a lot of mistakes, overcoming them, making more mistakes and resilience to then become good at that thing. You have to find solutions - don't expect other people to do the work for you."
Mark then informed students that they would be setting up their own business – getting a restaurant up and running for a day on Saturday 21st October at the Academy. Before he left, Mark outlined his expectations - good attendance and good effort with school work, because without knowledge, life can be tough.
Another speaker – Kevin Hayes from The Constant Change Company – ran workshops for a week with students in years 10 and 11 and Sixth Form students. The workshops taught students about memory and memory techniques to help them store and find information needed in lessons, in readiness for their exams.