Viktoria Wins Special Editions of Harry Potter Thanks to Dream Library Design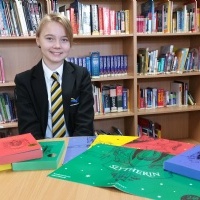 Year 8 student Viktoria Brikule waved her magic wand and created a fantasy library – winning her a set of special anniversary editions of Harry Potter and the Philosopher's Stone.
To celebrate the 20th anniversary of the publication of the first book in JK Rowling's hit series, publisher Bloomsbury ran a national competition to design your dream library, with the first prize a makeover of the school library in a Harry Potter theme.
TCA was delighted to learn that Viktoria was picked as a runner up and she was awarded four books in the colours of the four Houses at Hogwarts, with an accompanying matching poster.