Race to the Gold Coast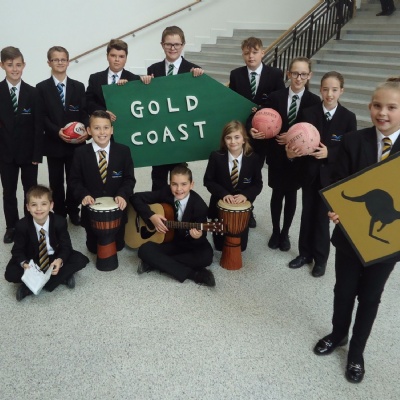 A new challenge inspired by next year's Commonwealth Games is being launched to encourage Year 7 students to take part in extra-curricular activities.
The Gold Coast, Australia, is hosting the 2018 Commonwealth Games and while it may be on the other side of the world, staff at TCA are hoping to bring the spirit of the Games closer to home.
The distance between Wisbech and the Gold Coast is approximately 10,400 miles and students who attend an after-school club will be awarded 30 miles per session to add to their tutor group's tally. The aim is for each tutor group to get to the target of 10,400 miles by next summer and complete the Race to the Gold Coast.
Every Year 7 student will be given a card with spaces for 10 sessions, which have to be authorised by staff running the after-school clubs. Prizes will be awarded for each card completed and for each tutor group which reaches the target.
Amy Anderson, Raising Standards Leader for Year 7, came up with the idea for Race to the Gold Coast. She said: "We fully recognise that education is not just about developing knowledge and skills. A balanced education must challenge students to put their skills to the test and encourage them to push their physical and mental boundaries.
"With the Commonwealth Games taking place next year, it seemed a good opportunity to use it as a theme for this competition to encourage students to try extra-curricular activities."
Year 7 student Emma Kirk has already completed a number of sessions since the competition was launched. She said: "I think the competition helps us to feel involved in the school because we're new here as Year 7s. It will help us to get to know older students and other teachers. Through the after-school clubs, I've tried things I hadn't done before, like playing the piano."
Session 5 offers students the chance to take part in a wide variety of after-school clubs, from running and tennis to creative writing and rock/pop choir. A full list of the clubs can be viewed here.
In addition to after-school clubs, students can also get their commitment cards signed by community coaches and tutors.
The scheme will be officially launched after half-term.