Outstanding Student of the Week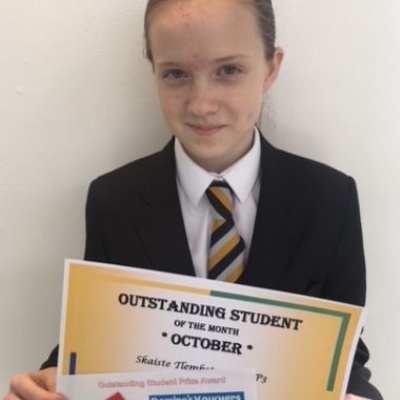 A new award system has been implemented to recognise students who demonstrate exemplary behaviour and attendance.
Student of the Week celebrates TCA's outstanding students based on achievement points awarded by staff and attendance in school.
Three students from Years 7 to 11 are awarded 1st, 2nd and 3rd positions each week, with the successful students' names being displayed on the screens around the Academy, in the library and at the entrance to each Learning Community. The top performing students receive a certificate in assemblies so their efforts can be recognised by their families and fellow students. There are also prizes for Outstanding Student of the Month.
Leader of Student Services Akvile Liuti said: "It's about creating a positive reward system and recognising good behaviour. Students have been enthusiastic about getting their points and the weekly winners have been very pleased to receive their certificates and different prizes for Outstanding Student of the Month. They are proud of themselves and so are their families. They like to see their names up around the Academy."
Last term's winners were:
02/10/17
Year 7
1st Chudzik, Patricija
2nd Boughen, Kacey
3rd Miller, Christie-Leigh
Year 8
1st Wright, Keirran
2nd Wright, Stephaine
3rd Yeoman, Reece
Year 9
1st Calvert, Kian
2nd Wright, Connor
3rd Wright, Daniel
Year 10
1st Zgirskyte, Dovile
2nd Ziebart, Honor
3rd Aleksandraviciute, Emilija
Year 11
1st Wooding, Courtney
2nd Young, Chloe
3rd Zielys, Lukas
09/10/17
Year 7:
1st Tlembetovaite, Skaiste
2nd Dennis, Thomas
3rd Hart, Sammy-Jo
Year 8
1st Soltan, Oleg
2nd Onslow, Tia
3rd Allen, Megan
Year 9
1st Galeniekaite, Smilte
2nd Groves, Lillie-May
3rd Brooks, Kayleigh
Year 10
1st Aleksandraviciute, Emilija
2nd Hart, Katherine
3rd Jezewska, Julita
Year 11
1st Rumbelow, Olivia
2nd Porter, Ben
3rd Dabo, Alimatu
16/10/10
Year 7
1st Rodrigues Castro, Phoebe
2nd Chudzik, Patricija
3rd Wigginton, Zara
Year 8
1st Soltan, Oleg
2nd Green, Kelsey
3rd Ahlijah, Maraiah
Year 9
1st Parkinson, Amy
2nd Cottingham, Emma
3rd Lipaviciute, Rugile
Year 10
1st Aleksandraviciute, Emilija
2nd Reach, Bethany
3rd Mikiel, Daniel
Year 11
1st Nadasan, Adriana
2nd Mareckaite, Inesa
3rd Varvolyte, Neringa
A special mention goes to September's Student of the Month, Oleg Soltan, who notched up 310 achievement points along with 100% attendance, and October's Student of the Month, Skaiste Tlembetovaite, who was awarded 420 achievement points and achieved 100% attendance. Skaiste said she was surprised to discovered she'd won but said: "I want to do well in school for my future."