International Bookmark Exchange Project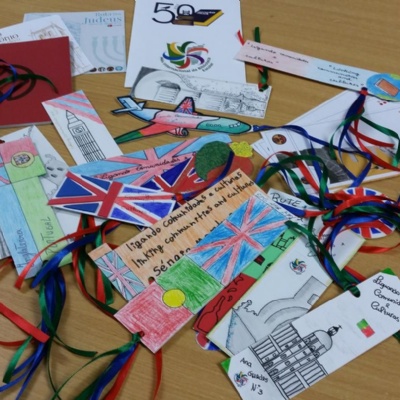 TCA has forged links with other schools from around the world thanks to the International Bookmark Exchange Project.
Students designed and produced their own bookmarks and sent them off to schools that had been matched with TCA, with the aim of sharing their love of reading, making new friends and learning about other cultures.
A school in Hungary responded after receiving TCA's bookmarks and there are now hopes students from both schools can write to each other.
The Hungarian teacher, who said their students are keen to improve their English by corresponding with TCA students, wrote: "We've received your pack with the wonderful bookmarks from your students. Thank you very much! I am so pleased that we could recognise many novels on these bookmarks."
Librarian Debbie Trafford has also received a number of bookmarks from a school in Portugal (pictured), along with information about their country. Students there used their bookmarks to promote 'Connecting Communities and Cultures', which is the tagline of the International Bookmark Exchange project.