New Year Food Bank Drive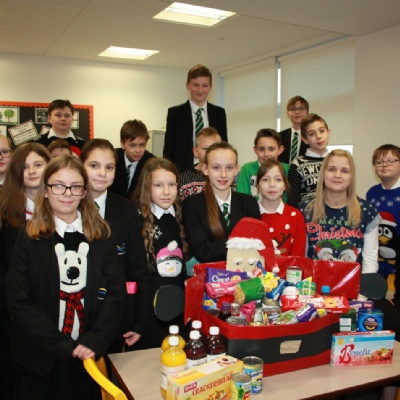 Families are reminded that donations are still being collected for the Food Bank Drive which started last term.
Nearly 500 items were donated by generous parents and carers in December and the drive to support Wisbech Food Bank continues this month.
Forms have been competing to collect the most items, with five points awarded for dried or long-life milk, fruit juice (not chilled), fruit squash, sugar (500g or 1kg bags) and coffee; two points awarded for pasta sauces, biscuits, cereals, rice, jam, tinned tomatoes, tea, tinned fruit, tinned fish, tinned rice pudding, tinned sponge pudding, tinned vegetables, tinned potatoes, instant mash potatoes, snack bars, chocolate bars and crisps; and one point awarded for baked beans, pasta, soup and dried noodles.
Last term, the winner of the most innovative box was 11C with their Selfie Elfie box and the winner of the most items donated was 7K3.
Please note the food bank will not accept fresh fruit and vegetables, nuts, alcohol and out-of-date items.