Brooke Weston Trust's Elite Rugby Squad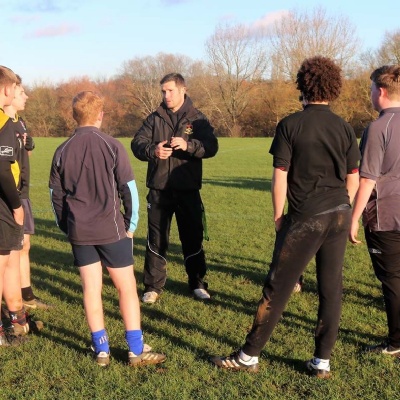 More than 30 promising rugby players from schools within the Brooke Weston Trust attended their first training session as members of the newly-formed Trust elite rugby squad.
Ten students from TCA were selected to be part of the squad and will now undergo coaching throughout the rest of this year with the rest of the squad to prepare them to play in the county cup and other competitions against well-established teams, including those from elite grammar schools.
The students had their first experience as a squad at Kettering Science Academy with a coach from Northampton Saints leading the session. Oliver Machon, a teacher from Corby Business Academy, said: "We want them to get used to each other and to break down the barriers so that it's cohesive and they don't feel they are playing for their individual schools. They have done handling, passing and attacking skills, evasion techniques and have been split into forwards and backs to do more targeted training."
Kettering Science Academy's PE teacher, Liam Feely, co-ordinated the three-hour session. He said: "We recently took part in a tournament at the Northampton Saints ground and the idea was to get as many players as we can to create this Trust elite under-14s squad. Hopefully starting next academic year we will be entering them into a cup competition, playing against grammar schools and showing our skills off.
"This year is the building plan to try and get them to a good level of rugby as a team. It is about trying to build skill level and understanding. We have got 34 players and, as we only play 15 at a time, it gives us a large squad to pick from and hopefully we will have A and B teams. There is a really nice mix of students of different ages and backgrounds and they are putting 100% effort in. Some have never played rugby before. A few are a bit shy but when they get the rugby ball in their hands they transform into a different person. They are all a credit and we have some real raw talent coming through, so I am looking forward to seeing how their skills and teamwork develop over the coming months."