Students Clocking Up The Miles In 'Race To The Gold Coast' Challenge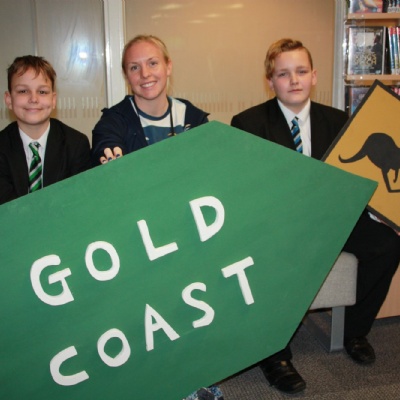 Students taking part in a challenge to increase participation in extra-curricular activities have been clocking up their 'miles'.
Last term, TCA launched Race to the Gold Coast, taking inspiration from this year's Commonwealth Games in the Gold Coast, Australia.
The distance between Wisbech and the Gold Coast is approximately 10,400 miles - students who attend an after-school club are awarded 30 'miles' and have their commitment cards signed by a member of staff.
Learning communities are competing against each other to complete the Race to the Gold Coast by the summer.
Two students in particular who have embraced the challenge are Deividas Virsilas and Laimis Cecko.
Deividas has already clocked up 1,500 miles by taking part in basketball, rugby, football and dodgeball.
He said: "It's important to exercise and taking part in after-school clubs helps you to make new friends."
Laimis, who has 600 miles under his belt, said the after-school clubs gave them an opportunity to try new things, such as dodgeball.
Amy Anderson, the Raising Standards Leader for Year 7 who came up with the idea for Race to the Gold Coast, said: "There has been a good uptake from students and they've been carrying their cards with them so they can get them signed. There's a production of Little Shop of Horrors in the summer so that's been a popular club.
"We've also got break time and lunch time clubs, such as table tennis and table football, where students can also get their cards signed.
"It's been good to chat to students about the clubs they're involved with outside of school, such as life-guarding."
Students can also get their commitment cards signed by community coaches and tutors outside of school.