Netball Team Awarded Bronze in Brooke Weston Trust Netball Day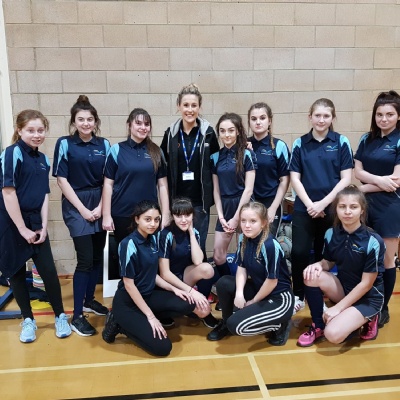 The Year 9 netball team demonstrated resilience and determination to win bronze in the Brooke Weston Trust elite netball day.
The squad travelled to Brooke Weston Academy in Corby to take part in the event, which began with a talk by Georgia Lees of Surrey Storm, the team which won netball's Superleague in 2015 and 2016.
Georgia led a coaching session where the girls worked on passing, attacking and defensive skills.
Next the girls put what they had learned into practice during three games against other schools in the Trust.
TCA started strongly against Brooke Weston Academy, demonstrating all of their new-found skills, but eventually losing 0-3. Girl of the game was Isabel Shannon.
TCA had their first win against Corby Technical School, with some excellent sharp cuts across the court from Lillie-May Groves, and super shooting by girl of the game Vismante Gilyte. The final score was 2-1.
Going into the last minute of the final game, TCA were drawing 1-1 with favourite for the trophy, Corby Business Academy, but despite some fantastic defending by girl of the game Skye Stagg, CBA scored with just seconds to go, with the final score 1-2.
PE teacher Amy Anderson commented: "The progress the team made throughout the day was phenomenal.
"This really was a fantastic tale of resilience and determination.
"I am ever so proud of all of the girls and they were a credit to the Academy."
The team is now looking to do some fundraising to buy more kit – any businesses who would be interested in sponsoring the team should contact the Academy.
Well done to the girls:
Harmonie Mattless – C/WA
Smilte Galeniekaite – GK
Daniella Stute – C/WA
Vismante Gilyte – GA
Vanessa Marcova – GA/GS
Wiktoria Biel – WD/GD
Isabel Shannon – GD
Lillie-May Groves – WD
Skye Stagg – GK
Melissa Middleton – GS
Lily Bailey – GA/GS