Student Report: Trinity Laban Conservatoire of Music and Dance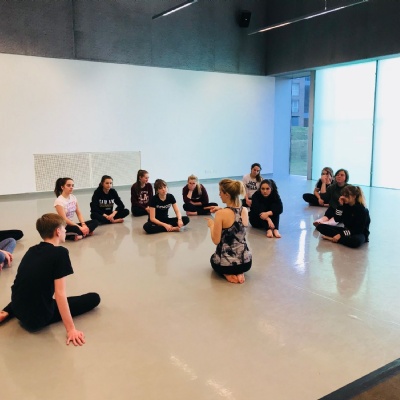 A group of students recently took part in a taster day at the Trinity Laban Conservatoire of Music and Dance in London.
Rugile Lipaviciute and Sheila Woodberry put together a student report detailing their day:
Our Experience at Trinity Laban Conservatoire of Music & Dance
On the 1st of February 2018, we went to London to a dance university, it was very interesting and fun.
At first, we had a mini presentation about the three years of studying here, telling us about the history of how it formed, what we would do and the different projects that are going on at this time. Then we had a tour of the whole dance university and got to see some of the studios. We also got to see a ballet class, which Transitions Dance company (a postgraduate company) were taking part in and some of us got to share our opinions about the dancers. Georgia commented, "They were elegant." It was surprising to all of us that they could pick up the sequences of the dance in minutes!
In the afternoon, we had a technique class which was cool, as we got to learn some ballet moves and contemporary, there was also a bit of jazz involved. Some of the ballet moves were plié, first position, second position and many more. Whereas the contemporary moves were different, it included many jumps, turns and using the Cunningham technique. In the technique class we did many balances which required the use of long extensions and basic techniques, such as pointy toes and shoulders back.
The other part of the afternoon we had a choreography class, it was very experimental! Our main stimulus was falling, however we had other stimuli as well: suspense and recovering. This included us extending in some way, fall and the get back up in lots of different ways. We did solos and after that we had to find a partner(s) to join our solos to make duos/trios. When we practised and performed our duos/trios, we did some trust falls. They were very fun. Then we joined to be in groups of 4 or 5, where we added some contact, but there was a group of 5 but they were able to do the exercise therefore it was more difficult as the trust falls were harder to complete, however we found ways to do them.
To relax from the hard work, we played a game called 'I'm falling' - it was where we had to walk around the whole studio and someone had to shout 'I'm falling!' then all of us had to go to that person and lift him/her into the crucifix lift, it was very interesting.
At the end, we got to perform our group dances and we were able to get feedback from the teacher. During this time, we also performed to a lady who is in charge of the development of the younger dancers. She told us about the CAT (centre for advanced training) programme, and gave us brochures to look at in case we want to get involved.
It was really good as we got to experience what it would be like in further education. We really enjoyed what we did and being able to go and experience some of the classes that we could take was very good and exciting!
Jenny said, 'I really enjoyed watching the class because it inspired me and made me realise how it would feel to do post 16 dance.'
We would recommend the experience of attending a Laban taster day to any keen dancers who have the opportunity of attending in the future.
By Rugile Lipaviciute and Sheila Woodberry
Year 11 Raising Standards Leader, Lisa Tarsitano, said: "The students were brilliant and so inspired. They asked lots of questions about going to university and how they get there. I was very proud of them."