Rugby Players' Training Sessions With Northampton Saints Coaches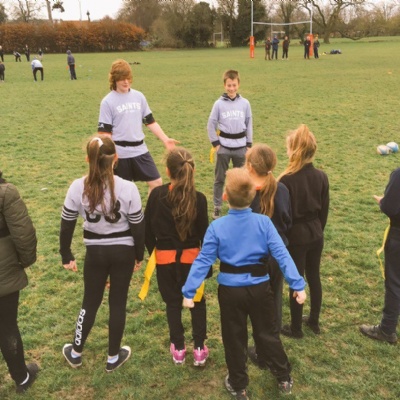 A programme which has seen some of our rugby players take part in training sessions with Northampton Saints coaches has led to students delivering tag rugby sessions to primary pupils.
Since October, a group of Year 9 and 10 students have been attending the training sessions with some of the best coaches working in top-level rugby.
Not only has it helped them to develop their own skills, it has also given them an in-depth knowledge of the game and the ability to lead sessions in tag rugby.
The group recently worked with pupils from Peckover Primary School to deliver and officiate a tag rugby tournament at Wisbech Rugby Club.
PE teacher Bruno Porfirio said: "It was the first time our students had led a group of younger children and they were really successful, not only impressing the Saints coaches but also the primary school staff."
Staff from Peckover Primary School commented on how good the young leaders were, saying they were a credit to the Academy.
The boys taking part were:
Lukas Aleksandravicius
Kacper Bembenek-Widuch
Harry Preston
Charles Jepson
Ben Johnson
Oliver Pilling
George Overland
Joshua Watson
Gabriel Ferreira.