Grab a Grade Week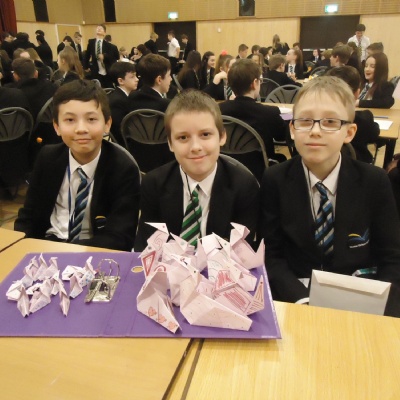 A week-long focus to give extra support to Year 11s as they prepare for their exams has given younger students the opportunity to take part in a whole host of challenging and thought-provoking activities.
Grab a Grade Week, which concludes on Friday, has provided dedicated time for Year 11 to focus on the core subjects of English and maths, plus time to spend on other subjects where they might benefit from extra help.
At the same time, students from other year groups have been participating in a week-long programme of activities to develop skills such as teamwork and problem-solving, and to encourage them to think about their next steps.
Year 7 and 8 took on an enterprise challenge delivered by the Skills Service in which they set up their own business producing and selling ducks. Each team had to appoint a managing director, a buyer, a sales executive, an accountant and production workers. They had to buy the materials and manage a budget. There were even fines for health and safety breaches and bonuses when good business sense was demonstrated, such as negotiation and selling skills.
A group of Year 8s enjoyed a trip to Kidzania in London, a careers theme park which gives young people the chance to take part in various 'jobs' to earn KidZania currency.
There were more than 60 entertaining activities to choose from, including an animation studio, aviation academy, chocolate factory, engineering centre, cricket, dentistry, fire and rescue unit, hospital A&E, music academy, pet wellbeing centre, newspaper and radio station.
For Year 9s, they will have the chance to demonstrate their entrepreneurial skills with a 'Build the Business' challenge.
Organised in conjunction with the Skills Services, students will be given an item and challenged to build a business around it. They will have to develop a marketing strategy, examine the production costs and detail how it will be delivered. They will then have to present their ideas to employers in a 'Dragons' Den' style format.
Year 9s will also hear from trade union Unite on employment issues such as skills, training and career paths.
Key Stage 3 students have been tested and challenged through a variety of subject activities throughout the week - in maths, students worked through the four themes of problem-solving, colours, tangrams and strategy. The activities came from the University of Cambridge's NRICH programme, which provides maths resources to enrich learning.
As part of their PSHE, students have also been examining issues such as healthy eating, friendships and body image.
Meanwhile, Year 10s were given an insight into the world of work through work placements – read more here.