Work Experience Success: Employer Feedback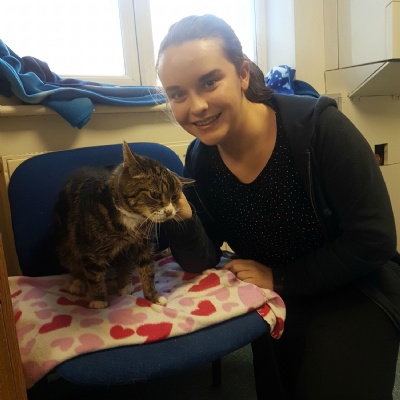 Year 10 students spent a week on work placements to gain a valuable insight into the skills and attributes required in the world of work. Here we share just some of the success stories and complimentary feedback from employers.
Ella D'Aloia-Turvey spent a week at Fossils Galore in March. The employers were very complimentary of her, saying she has got on well with all the staff and customers. Ella herself said the role has really helped her to grow in confidence as she has been giving tours and talks whilst in the museum part of the business. She even took Ms Thomas on a tour when she paid her a visit and was very proud to show off what she had done. She also had the chance to work in the fossil lab helping the owner to prepare an Iguanodon skeleton that they are putting together.
Niamh Morgan was at Upwell Road Dentists in March. As she wants to get into the medical profession, they have her lessons on certain areas of dentistry and allowed her to observe surgical procedures. She was most definitely part of the team and staff said that they would happily have her back.
Alisha Smith helped out at Jack and Jill's Nursery. She helped the nursery to prepare for Chinese New Year with crafts and reading stories. The staff said she was the best work experience student they had ever had.
Emily from Lillian Rose Flowers: "This week Luke has been polite, flexible and hardworking."
Mandy White, Early Years Foundation Stage manager: "Both Aimee and Megan have been superstars. It has been a pleasure having them both in the nursery. They settled into the nursery really well, initiating play and having conversations with both staff and children. The children have loved having the girls in the nursery."
"Both Jake Lawson and Paulina Venckute have been with us all week. They are both proving to be very professional and efficient whilst here."
Sarah Street of Sarah's Flowers: "Amy has been fantastic this week, she has overcome every job I have put to her and is very conscientious and hardworking, it has been a pleasure to have her here!"
Kevin Cousins: "Oliver has turned up every morning bright and early at 7.30am and not been late once. I have put him with different technicians to give him a bit of an insight into different jobs, he has been working on nice clean new tractors in our workshop and has also been out to machines on farm and got his hands dirty working on the older machines. I wish him all the luck in the future whatever road of employment he decides to take."
Sara Turton, Children's Centre Manager: "Lydia has been an absolute pleasure to have for the week, we would happily have her stay for longer!"
Susan Watson, Fenmarc: "It has been a pleasure having them [Lauren Best, Eimantas Jankauskas, Simon Hempstead and Grantas Vendzinskas] – and that's just not me saying that. My colleagues have enjoyed being a part of the project. The students are well mannered and have got stuck in, so a credit to themselves and the school. The students have obviously got something out of their time as they have told me so ……..and my colleagues too – so a win-win. It's great to see how their confidence grew as the week went on and how conversations were actually taking place! It was also interesting to hear how messages that my colleagues were conveying in their particular sessions were being repeated by the students in my feedback session with them."
Ellie Lovegrove was at MKD Recruit Ltd where her daily duties included making and answering phone calls, managing/banking money and managing/updating spreadsheets. All of the staff in the office spoke so highly of Ellie and said that she has been a credit to Thomas Clarkson Academy.
Viktor Salihu and Sevdalin Marinov were at Tesco on March. Staff were very complimentary, commenting on how hard-working and polite both boys have been.
Austeja Jonaityte and Whitney Walker were at Parson Drove Pre-School. Staff said that the children loved them and that they had both been very pro-active and had a lovely nature with all of the children.
Chloe Allen was at Alderman Payne Primary School where the employer was full of praise for her. Chloe spent time working with a Year 5 class and had a real taste of what it is like being a teacher.
Shai Hudson and Elle-Mai Hunter spent the week at Jamie's nails were both girls got on extremely well. There was particular praise to Elle-Mai as she made £230 for the company just from selling old nail polish stock!
Katrina Afanasjeva was at Top to Toe where the manager was so impressed with her that he said it was likely he would offer her a part- time job.
Jurina Markelyte was at The Floral Centre and it was another successful work placement with fantastic comments from the employer.
Aiden Shihadeh was at Tesco in Wisbech where staff said he did a great job and did everything asked of him.
Steve Takem was also at Tesco and staff commented that his work ethic and attitude were amazing all week. They even said that had he been old enough, they would have definitely offered him a part-time job.
Fenland District Council: "Neila Cepulilynte has been based at our Wisbech Customer service centre and Siyen Sunassee has been based within our planning team. They have been wonderful students and a real credit to Thomas Clarkson Academy."
Miss Buckenham, TCA: "I have had Luke Sargeant with me all day being a teaching assistant and he has been a wonderful help. Students have responded really well to him and he has been keen to get involved in everything."
A number of students were at Morrisons, working on the deli counter. Ebonnie Rawlings, Kaz Micalczyk and Sacha Hammond spent time making fresh and decorating cupcakes. Staff could not speak more highly of the students.
Victoria Jarvis (pictured at top of story) arranged her own placement at Medivet and had a great insight into a veterinary surgery - she got to go into theatre and observe two operations and was even asked to monitor the heartbeat of the animals whilst they were under anaesthetic.
Abbie Ewing spent time at Murrow Pre-School and thoroughly enjoyed her placement. Staff were again very complimentary about Abbie. Abbie even commented that completing the placement has 'helped with decisions regarding her future career'.