Harmonie and Daniella Selected For BWT Elite Netball Squad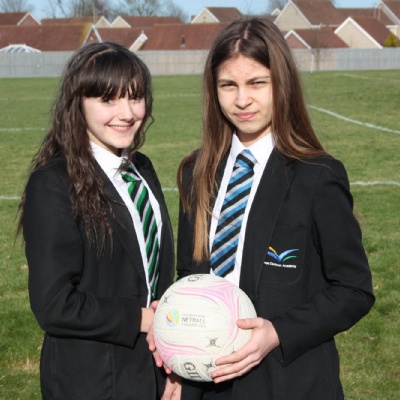 Congratulations to two of our netballers who have been picked for the very first Brooke Weston Trust elite netball squad.
Year 9 students Harmonie Mattless and Daniella Stute, who both play centre and wing attack, will now train and play with students from other schools within the Trust. The squad will compete against other teams and academy trusts.
PE teacher and coach Amy Anderson said the girls impressed the squad selectors from the outset when they took part in a Brooke Weston Trust elite netball day.
She said: "Their movement around the court was very good and their teamwork was exceptional. Their passing was accurate and their ability to read the game and think one step ahead was absolutely brilliant. The selector said she'd spotted them first thing in the morning and throughout the day, they confirmed her initial thoughts.
"Being part of the squad will mean the girls experience a higher level of netball. It will also help to develop their social and personal skills as they'll be playing with different people."
The squad has its first training session in March.
Hermonie said: "I was shocked when I found out I'd been picked. I think one of the best things will be meeting new people and playing against new people."
The girls' success follows TCA's Year 9 netball team picking up bronze at the BWT elite netball day.