Regional Schools Commissioner Visits TCA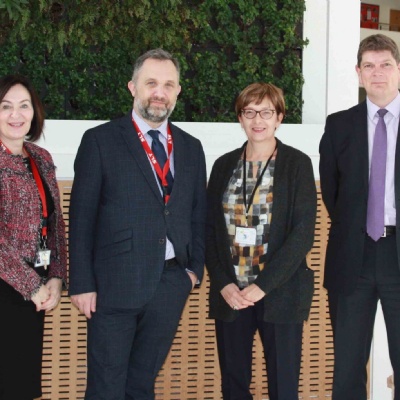 Senior leaders welcomed Regional Schools Commissioner Sue Baldwin to the Academy this week.
Ms Baldwin, who is RSC for the East of England and North-East London, was accompanied by Brooke Weston Trust CEO Dr Andrew Campbell. They were hosted by Executive Principal Anne Hill and Associate Principal Richard Scott at TCA, where they had a tour and wide ranging discussions about the school's improving performance, areas of best practice and its ongoing remit to drive up outcomes.
Ms Baldwin also paid a visit to Peckover Primary School, another Trust school.
Dr Campbell said: "It was a real pleasure to show Ms Baldwin around our Wisbech schools. We are very proud of them and their continuing mission to provide excellent opportunities for their students, not only in the classroom but also by offering trips, visits, sports opportunities and a variety of activities that all add to students' personal development and open their eyes to what is achievable.
"We were delighted that Ms Baldwin was able to come and see all the activities and best practice going on in our Wisbech schools. We had open and frank discussions about how the schools are currently performing and their ambitious plans for future development. Ms Baldwin is responsible for hundreds of schools in the region and her departmental remit is to challenge underperformance, build strong sponsors, open high quality new provision and facilitate collaboration and this was certainly a collaborative and positive visit."
Ms Baldwin said: "I would like to say thank you to the staff and pupils at Thomas Clarkson Academy and Peckover Primary School who welcomed me to their schools. It is one of the privileges of being the Regional Schools Commissioner to be able to visit schools that are at the heart of their communities. I was delighted to see how Brooke Weston Academy Trust's priorities for continuing to improve the experience of children and young people at both schools are succeeding. I know this reflects the hard work of staff, pupils and local governors and I am very grateful to all. I wish you very best wishes for the future."