Tips From Chinese Cuisine Ambassadors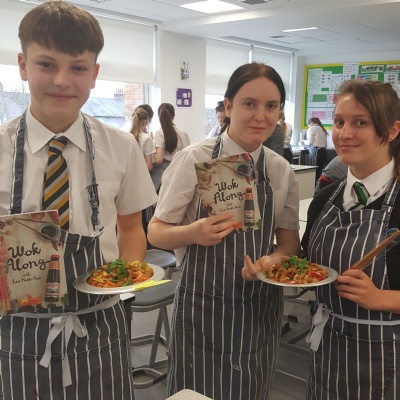 Students were given an insight into Chinese food and culture when two Healthy Chinese Cuisine Ambassadors paid a visit to TCA.
The Ambassadors, from the Ming-Ali Institute in London, gave a demonstration of how to cook Hoisin chicken before students had a go at producing their own dishes of stir-fry and dumplings.
They deboned chicken as well as some new vegetable cutting techniques, including using a spoon to peel ginger and a peeler to slice carrots.
Teacher Jelena Tjurina said: "The students thoroughly enjoyed the workshop. They brilliantly exercised their creativity when it came time to presentation, resourcefully using off-cut celery leaves as garnish!"
Congratulations to the class winners in the best stir-fry competition:
Year 10 - Evan Quenby, Catherine Fisher and Charlotte-Rose Warren
Year 11 - Tate Collis and Ryan Hardy.