International Orchestra Demonstrates the Diversity of Music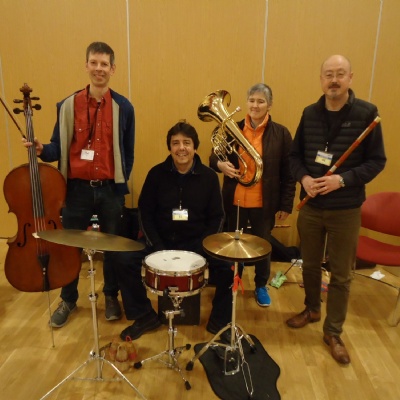 An orchestra made up of musicians from across the world gave students a taste of music from West Africa, China, Brazil and India.
The Grand Union Orchestra, which is based in London, was set up in the 1980s by composer Tony Haynes, who wanted to promote cross-cultural music making.
Made up of around 30 musicians, the orchestra takes part in large-scale projects with choirs and bands, along with community outreach projects.
The Academy's music department organised for the orchestra to visit TCA and in the morning, they performed to primary pupils before playing to Academy students and running music workshops in the afternoon.
Musicians Carlos Fuentes from Chile, Ruijun Hu from China, Ros Davies from the UK and Shanti Jayasinha from Sri Lanka played a variety of instruments and songs to highlight the diversity in music.
Mr Jayasinha said: "It's about showcasing music from lots of different countries and showing that we can all play each other's music. As an orchestra, we try to ensure that whatever music we play, it's taught to us by someone from the country it originates from."