Design For Sculpture Nearing Completion Ahead of GoGoHares Trail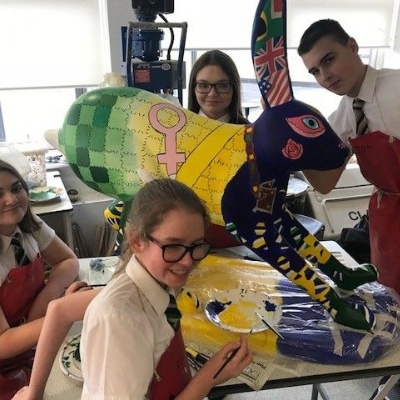 A blank hare sculpture has been transformed into a colourful representation of the Academy in readiness for a trail that will see specially-designed hares dotted around Norwich.
Local groups and organisations have been invited to paint designs on hare sculptures for the GoGoHares trail, which takes place from July to September to raise awareness of Norfolk children's charity, Break.
A group of Year 9 students spent time brain-storming their ideas before work began on bringing their hare to life.
Sporting the three colours of the Academy, it also includes the flags and imagery associated with the themes of TCA's three learning communities, Madiba, Pankhurst and King (Nelson Mandela, Emily Pankhurst and Martin Luther King).
The Go Go Create project is being organised in conjunction with Wild in Art and once the GoGoHares trail is over, TCA's hare will be returned to the Academy to be put on display.