Students Attend Final of 'Believe Big' Programme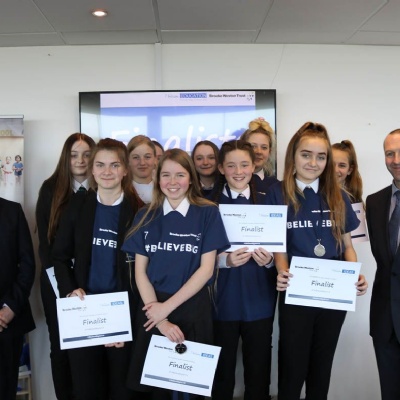 Students came up with some innovative projects for the final of Believe Big, a Trust-wide programme designed to encourage entrepreneurial and creative spirit.
The scheme was rolled out across all secondary schools in the Brooke Weston Trust, challenging students to come up with new ideas that could have an impact on the world.
Following an in-school competition, the finalists from TCA were selected to go through to the final yesterday at Rockingham Speedway in Corby.
The three top teams from Year 7, 8 and 9 presented their ideas and were judged by a team of teachers, leaders and representatives from 7 Billion Ideas, which ran the competition.
Each team developed their ideas and created a name, slogan, marketing materials, model and presentation. All of the students received a commemorative medal and T-shirt and the winning teams were given certificates.
The Year 7 team, made up of Grace Black, Lauren Davis and Patricija Chudzik, developed a 'Call Home' project, with the idea of using telephone boxes to provide facilities for the homeless, such as showers, beds, washing machines and clean clothes. The boxes would be accessed via a token system.
Lauren said: "Lots of us thought of different ideas and this was the best one. I thought that we should do something about homeless people and Grace thought about using telephone boxes."
Bailey Cordell, Piper O'Neill, Julija Kurisko and Grace Hanlon came up with the idea of a colourful clock
which uses light to help children learn the time, particularly those with special needs. The clock's coloured face would be linked to the room lights, so as the light changes on the clock, the lights in the room change colour to let you know it's a different hour.
Grace said: "It can help people with special needs as the colours are more obvious than numbers and it can also help children learning to tell the time as obviously they can see the colour. It can help parents with bedtime routines so that children can be a bit more independent."
She added: "Taking part in this project has helped us learn how to connect with people that you don't normally talk to. Create something awesome out of nothing has been really nice."
The third team, made up of Elle Hunt, Keita Butnorjus and Libby Amor, developed an idea for a yo-yo phone case. The idea was to stop phone screens smashing as it has a cord attached to your finger which then has a 'yo-yo' rope, so if the phone slips it automatically bounces back up.
Libby said: "We would make it in different colours and we would need to have it at a reasonable price so that it is affordable."
The winning team from Corby Technical School came up with an idea to combat drink drivers. It would see breathalysers installed in cars which would automatically immobilise the vehicle if a positive reading was given. It would also automatically send a message to a friend or taxi service so that the driver could be picked up safely.
David Harkin, CEO of 7 Billion Ideas, complimented the schools on their creative ideas, saying: "The
students have been fantastic. We launched the competition earlier this year and there was so much energy and hard work from the students and the stalls today are world class. The students have gone above and beyond - it is just extraordinary. I don't think Brooke Weston Trust has got anything to worry about in terms of the next generation of entrepreneurs. We have 15 fantastic ideas in the room and the judges have had an incredibly difficult challenge.
"It is about raising aspiration and unlocking the entrepreneurial and creative DNA which exists in every student. We want to raise aspiration, embrace failure as part and parcel of life and have a go at developing ideas and encourage students to think big and dream big. Ultimately that will mean making the right decisions as they grow up."
Announcing the winners, Dr Campbell told the students: "What has been genuinely inspirational is the
quality of these ideas that could change the world. The ideas were fantastic and what struck me has been the degree to which different people have thought about how they can help others. It is refreshing listening to students talking about things that can help other people rather than themselves. We chose the winner because we could see the idea becoming reality, the way it was developed was personal and it relates to an important safety issue that is relevant to many people."