BWT Book Quiz 2018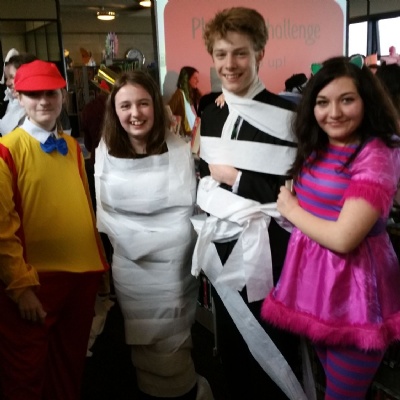 Keen readers who have been making their way through a specially-themed book list went head-to-head in the annual BWT Book Quiz.
Teams from across the Trust's schools were quizzed on their knowledge of 20 books and also completed physical challenges based on themes from the books.
The event, held at Corby Business Academy, began with a talk from visiting author Ross Welford who wrote Time Traveling with a Hamster, one of the books on the reading list.
Next came the quiz, which was interspersed with challenges such as wrapping each other in toilet paper because one of the books is about Tutankhamun. Other rounds included recognising book covers and a 'say what you see' picture round.
There were spot prizes every so often for being first to answer a one-off question. Emma Parkinson and Zara Walden won an award for best costumes - chosen by the author - while Joe Tierney won one for 'greatest fail' for Holly Luck's poor wrapping of him as a mummy.
Students have been reading from the book list since September and the questions focused on books in four categories: 'Mind Your Head', 'I Can't Remember the Title But the Cover is Blue', 'A Picture Speaks a Thousand Words' and 'It's a Mystery'.
At the end of the quiz, the winners were announced, with one of the TCA teams, Books Nerds, coming second.
CBA's Librarian Amy McKay said: "It was a fantastic day and wonderful to see so many students from across the Brooke Weston Trust celebrating a love of books and reading. They had been reading 20 selected books since term two and their knowledge was incredible – unsurprisingly it was a fiercely fought competition.
"Ross Welford, author of Time Travelling With A Hamster which was one of the quiz books, gave a talk about his road to author-stardom, he was very funny and an inspiration to listen to.
"Many participants, and their accompanying staff, wore fancy dress and a display of fantastic costumes were on show – including Mary Poppins, Mad Hatters, Tweedledum & Tweedledee, the World's Worst Children and the Hungry Caterpillar.
"As well as answering questions participants took part in physical challenges based on the books they'd read; these activities including juggling, punching a piñata, speed unwrapping and mummification."
The book list comprised:
Mental Health
We Were Liars by E. Lockhart
The Goldfish Boy by Lisa Thompson
Aubrey and the Terrible Yoot by Horatio Clare
Optimists Die First by Susin Nielsen
Night Shift by Debi Gliori
Blue Covers
Moonrise by Sarah Crossan
Girls Can't Hit by Tom Easton
Heroic by Phil Earle
Mortal Chaos by Matt Dickinson
Time Traveling with a Hamster by Ross Welford
Illustrated
Thornhill by Pam Smy
A Monster Calls by Patrick Ness
The Iron Man by Ted Hughes
The Story of Tutankhamun by Patricia Cleveland-Peck
Jim by Hilaire Belloc
Mystery
The Mummy's Revenge by Andrew Beasley
The Running Girl by Simon Mason
Wild Boy by Rob Lloyd Jones
The Guggenheim Mystery by Robin Stevens
Johnny Delgado by Kevin Brooks