TCA's Contribution to Wisbech Contemporary Art Project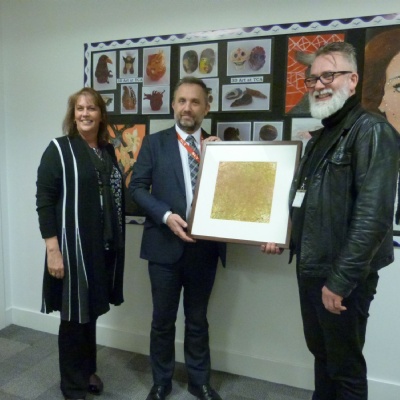 The artist behind a Wisbech community art programme presented TCA with one of its contributions to the project.
Artist Tim Mann launched the Crowded Room project last year to bring together all sections of the Wisbech community, to celebrate each individual and their place within the town.
Students and staff contributed to a large collaborative drawing when Tim and his team visited the Academy and drew an outline of every person.
They visited several different venues in and around Wisbech to create similar works of art, which were then combined to create a huge portrait. The aim was to capture an inclusive, visual census of the entire community where no-one is left out. It also aims to demonstrate that while each person is different in terms of appearance and character, humans are fundamentally all the same.
Crowded Room took 20 days to complete and the final portrait, which features more than 10,000 people, will be on display at locations in and around Wisbech.
When Tim visited TCA, he also captured everyone's handprint to form another piece of work – a version of this was presented to Associate Principal Richard Scott this month.
For more details, visit Tim Mann's website.