Stars Of Little Shop Of Horrors Prepare For Their Big Night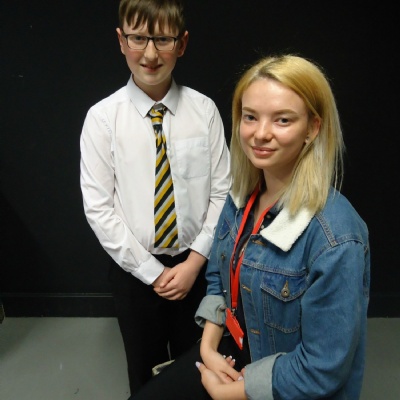 Two students with lead roles in TCA's upcoming show, Little Shop of Horrors, have spoken about their excitement at being involved in what is set to be the Academy's biggest production to date.
Matthew Skuse will play Seymour, who works in a florist's shop in New York and in a bid to attract new customers, introduces a new plant which turns out to be a talking, blood-thirsty venus trap fly.
His love interest Audrey is played by Kira Smith in Year 12, who has been involved in every school show since she started in Year 7.
She said: "I've had smaller roles in previous shows so this is my biggest one so far. Audrey is quite a shy character - she doesn't appreciate herself and doesn't think she is worthy of anything. Meeting Seymour helps her to grow.
"A lot of effort is going into this show and it's the biggest one we have put on so I think it's going to be one of the best shows we've done. I'm excited to see everything coming together and I'm looking forward to seeing the turnout on the night."
Kira, who is taking a BTEC in performing arts, said that being involved in school shows has helped her to develop key skills.
She said: "I have been involved in school shows for a long time and being able to speak and sing in front of an audience has helped me to grow in confidence.
"It's a good opportunity to work with people of different ages and it gives the younger ones a new experience."
Matthew, who is in Year 8, played Mason the technician in TCA's last show, School of Rock.
He said: "I've been watching some Little Shop of Horrors musicals on YouTube for research and my mum has been helping me a lot. We watched the movie before we started and I really enjoyed it. The character of Seymour is a bit awkward and geeky.
"It's fun to be involved with the show and it's something I enjoy. It's a chance to express yourself in different ways and it's a good way to learn."
A professional set and puppets are being brought in for the show to provide a colourful, lively backdrop to this quirky comedy. The largest version of the plant features a slide so it can 'swallow' someone whole.
Kira said: "It's going to be a fun night for the family, with comedy and excitement. It's a new, exciting experience for anyone who hasn't been to see one of the shows before."
Little Shop of Horrors takes place in the theatre on July 4th and 5th, starting at 7pm.
Tickets are £5 via Parent Pay or are available from Mrs Wilcox.