Students Receive Praise After Assisting With Community Event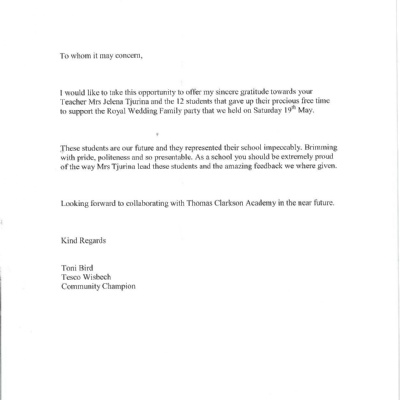 The organisers of a Royal wedding celebration have heaped praise on a group of TCA students who volunteered at the community event.
The indoor street party, which was organised by Tesco Wisbech, Wisbech Lions and Wisbech Rotary Club, was held at the Queen Mary Centre.

It was open to groups across Wisbech and along with family entertainment, the wedding of Prince Harry and Meghan Markle was shown on a big screen.

Twelve students from TCA helped with the celebrations by setting up tables, preparing and serving food and helping to clear away after the event.

In response to their help, Toni Bird, the Community Champion for Tesco Wisbech, wrote a letter to the Academy saying:

"I would like to take this opportunity to offer my sincere gratitude towards your teacher Mrs Jelena Tjurina and the 12 students that gave up their precious free time to support the Royal Wedding family party that we held on Saturday 19th May.

"These students are our future and they represented their school impeccably. Brimming with pride, politeness and so presentable. As a school you should be extremely proud of the way Mrs Tjurina led these students and the amazing feedback we were given.

"Looking forward to collaborating with Thomas Clarkson Academy in the near future."
The 12 students were Oliwia Kryca, Sophie Tjurina, Hazel Bhaloo, Cordelia Pack, Karina Kuzborskyte, Alfie Plunkett, Benas Juskevicius, Callum Barnes, Jo Clifford, Jasmine Brown, Rugile Deltuvaite and Hollie Dixon.