Wisbech Town Hockey Club Runs Taster Sessions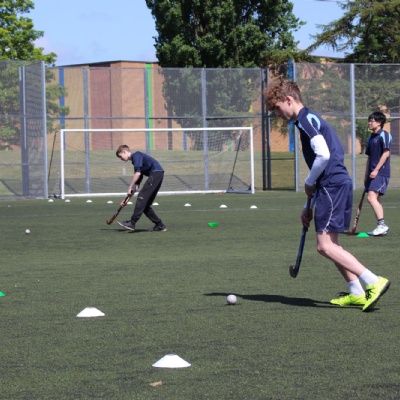 Four coaches from Wisbech Town Hockey Club ran taster sessions for more than a hundred TCA students to promote the sport to more young people.
For most of the students, it was their first time playing hockey and they were given tips and advice during the exercises and games delivered by the club's coaches.
Club chair Natalie Ward said: "We have high hopes that some students enjoyed the hockey enough to join in with the club and play in junior and adult sides next season. There was so much enthusiasm and talent on display we know we are missing out!
"There are opportunities to play, socialise, meet former pupils who have gone on to run their own businesses, go to college, train to become umpires and coaches and contribute to any number of activities that develop skills to take into the next stages of their lives.
"We know that hockey can be seen as a 'posh' sport and we are intent on busting that myth!"
The sessions proved to be popular with students, with several commenting that they would be interested in playing outside of school.
Three more sessions will be delivered to TCA students next month, with plans for an awards event before the end of the summer term.
Anyone interested in getting involved can contact the club via their Facebook page, Wisbech Town Hockey Club or visit www.wtchc.co.uk.