Elite Rugby Player Competes in Northampton Saints Regional Youth Tournament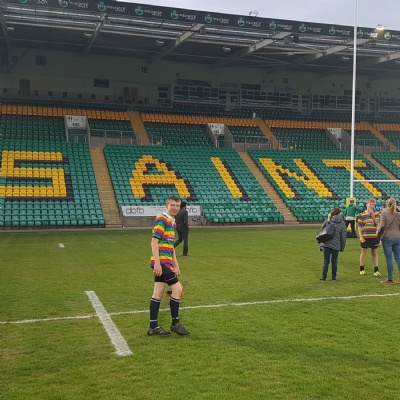 A talented rugby player who secured a place on Northampton Saints' Developing Player Programme recently took part in a tournament organised by the club.
Connor Loughlin, who started playing rugby aged just five, was put forward by PE teacher Ben Smith for the club's youth programme, which helps to nurture potential stars of the future.
Following a trial, Connor was selected for the under 13s squad for the Huntingdon and Peterborough region. During the rugby season, he trains in Peterborough with the club's coaches on a weekly basis, something he says has had a significant impact on his game.
Most recently, the Year 8 student took part in a tournament at the Saints ground against teams from three of the Saints' other DPP regions.
Along with tries scored, the tournament was also scored on passes made, sportsmanship and teamwork.
Connor, whose love of rugby comes from his dad, also plays for TCA and Wisbech Rugby Club.
He said: "Being part of the Saints' Developing Player Programme has definitely helped to improve my game – it's made me think a lot more and it's improved my decision-making. It's made me think about where the space on the pitch is, where to stand, the best place to receive a pass and the best place to pass.
"I would like to continue with the programme as I get older."
Connor will play again in October for the DPP and will fight for his spot as an under-14 player.
Danny Grieve in Year 9 was also selected for the DPP programme after demonstrating his talents on the rugby pitch.