Three Students Meet HRH The Prince of Wales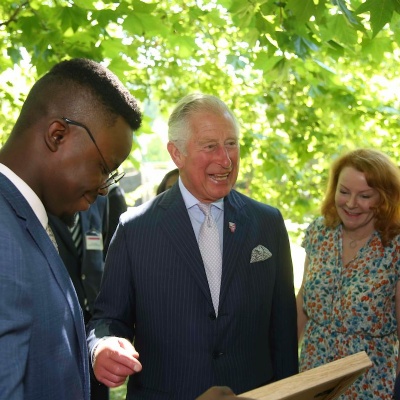 Three students met with Prince Charles at Clarence House after being selected to help co-host a business awards ceremony alongside comedian Sir Lenny Henry.
Sixth Formers Charlotte Cameron and Sebastien Njingo have been chosen to help host the Responsible Business Awards gala dinner held by Business in the Community at the Royal Albert Hall. They were selected for the role after entering a youth talent competition organised by Anglian Water, a partner organisation of the awards. Chloe Browne in Year 13 was selected as a reserve host.
Business in the Community is one of The
Prince's Charities, a group of not-for-profit organisations of which Prince Charles is the Royal Founding Patron. As he is unable to attend the awards ceremony at the Royal Albert Hall on July 3rd, those involved were invited to Clarence House on June 26th to meet him.
Charlotte, Seb and Chloe received formal invitations from Buckingham Palace and spent time chatting to Prince Charles during the special occasion. Seb showed him an incredibly lifelike drawing that he's been working on, which was very well received.
Photos published with kind permission from Jake Sugden Photography.