Tonight: Little Shop of Horrors Comes to TCA!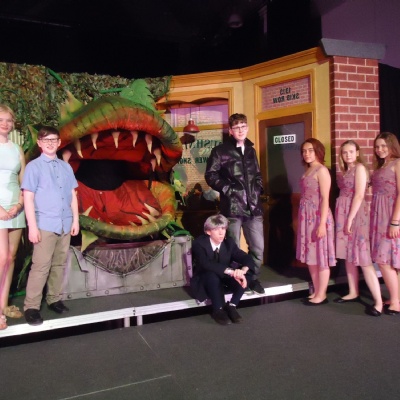 With lines rehearsed, songs practised and puppets mastered, TCA is looking forward to the opening night of the biggest production it has staged – Little Shop of Horrors.
With just a few hours to go, students and staff who have been working tirelessly to bring the show together are waiting in excitement for the curtain to go up on this quirky comedy, which is set in a florist's shop in New York and features a talking, blood-thirsty venus trap fly.
This year, a professional set and puppets have been brought in to provide a colourful, lively backdrop to this popular show. The largest version of the plant features a slide so it can 'swallow' someone whole.
Around 40 students from across all year
groups are taking part, with roles including acting, puppeteers, backstage help and the ensemble. For the first time, a live band will provide the music for the entire show. With so many students wanting to get involved, staff held a number of workshops before students were put forward for auditions.
On Monday, pupils from three primary schools were invited in to watch the dress rehearsal.
Little Shop of Horrors takes place in the theatre today (July 4th) and tomorrow, starting at 7pm.
Tickets are £5 via Parent Pay or are available from Mrs Wilcox.