TCA's Rose Fair Float Gets People Dancing in the Streets!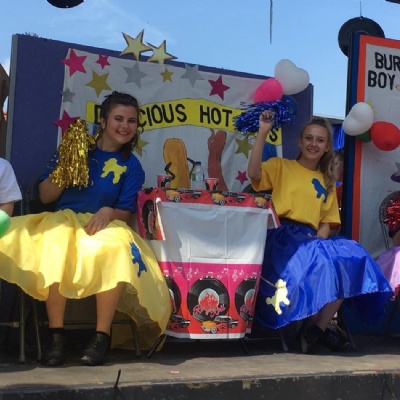 TCA's colourful, lively float certainly caught the attention of those who had lined the streets for this year's Rose Fair Parade, with scenes of dancing and hand-jiving accompanying the procession.
The theme of the parade was 'For the Love of Music', which was whole-heartedly embraced by Cooper Centre teacher Jackie Kendal and colleague Jane Mackie, who set about creating a 1950s diner.
Mrs Kendal said: "Our float was filled with TCA students and primary partner pupils and their behaviour and representation was impeccable. They had an absolute blast and they had the people of Wisbech eating out of their hands. Residents were dancing in the streets with us, hand jiving with our superstar pupils.
"This is community spirit at its best for a very worthy charity - the people in need who reside in this area."
Mrs Kendal thanked the five members of staff who helped out on the day, along with site staff and truck drivers Gary Kendal and Roy Coleman from Ceva Logistics.
She added: "I am so proud to work with such amazing people and our amazing pupils."
Some of our talented musicians also played a part in the celebrations, performing a piece from Little Shop of Horrors at the Trinity Methodist Church.