Results Day – Students' Stories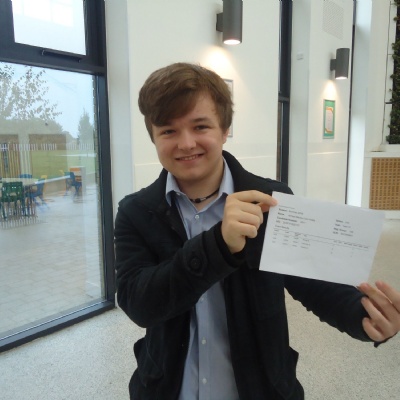 After a nervous wait, our Sixth Formers finally got their results today. We spoke to them about how they got on and what they're planning to do next.
James Watts is all set to start his degree in biochemistry at Liverpool John Moores University after picking up A Levels in physics, chemistry and biology, while Connor Atkins will be studying maths at the University of Lincoln after achieving a B in maths.
Connor said: "I'm looking forward to the whole university experience. The area the university is in looks good and after talking to the lecturers, they seem really supportive.
"I'm going to miss everyone at TCA but it will be good to have new experiences and meet new people."
George Boreham will fulfil a life-long dream when he starts his architecture studies at the University of Lincoln. George, who achieved a B in product design and two Cs in maths and physics, said: "I've been interested in architecture for as long as I can remember. I'm looking forward to having a bit more independence at university."
Chloe Browne is moving to Wales to study English literature and criminology at Bangor University. Chloe, who enjoys wakeboarding in her spare time, said the opportunities for water sports at the university was one of the attractions. She said: "There's a man-made wave machine built into one of the mountains. I'm looking forward to seeing what extracurricular groups and societies there are.
"I have done better than I thought I would with my results and I'm pleased to get into Bangor as their social sciences are very good."
Ben Land is heading to the University of Lincoln to study business. He said: "I've met the entry criteria
so I'm happy with that. It's the next stage in our lives as we grow up and become more independent."
Another student who is planning her next steps is Claire Freear, who is hoping to undertake some work experience in hospital for a year or two before applying for a nursing apprenticeship, while Kerri Cross is going to study international events management at Sheffield Hallam University.