Busy Open Evening for Year 5/6 Families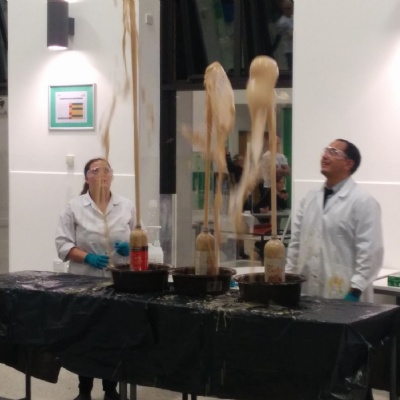 Prospective students and their families were given a taste of life at TCA at a busy, interactive Open Evening which encouraged younger pupils to have a go at the activities on offer.
From trying out their French to order refreshments to dressing up as historical figures in the history department's photo booth, visiting families were given a glimpse of our staff's creativity and engaging teaching methods.
The science department put on a very visual display with a series of experiments (pictured above), while the maths team drew on their musical skills for a 'Rock Stars Times Table' activity.
Matt Dobbing, Assistant Principal for Key Stage 3, thanked the families who came along, saying: "It was a fantastic evening, with 75% of families saying the evening exceeded their expectations. We involved lots of our current Year 7s and it was clear that they are incredibly proud of the school and are enjoying secondary school life.
"The evening will be followed up by tours for families who would like to visit during the school day."
To book an appointment for a tour of TCA on either Tuesday 2ndOctober or Wednesday 3rd October, from 10.45am to 11.50am, call 01945 585237 or email office@thomasclarksonacademy.org.