Year 9 Poet Has Work Published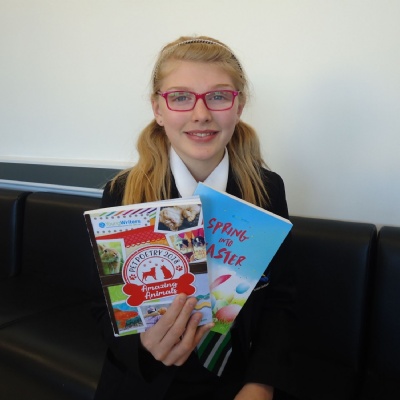 A Year 9 student who was inspired to start writing poetry by her mum has had two poems published in anthologies.
Lucy Hunt wrote the first, Uni-Cat, as part of her English lesson and decided to put it forward for consideration for Young Writers' Pet Poetry 2018: Amazing Animals.
She penned a second, Easter, which features in another book in the Young Writers' series, Spring Into Easter.
Lucy started writing poetry in primary school thanks to her mum's interest in creative writing.
Lucy said: "Most of my poems are fantasy-themed. I enjoy writing different stories in different genres and exploring what I like writing about. I've also been writing horror stories. I just like using my imagination.
"With creative writing, you can write about anything you want without anyone judging you. Teachers can give you feedback to help you improve and you can let your imagination run free."
Lucy is a member of TCA's after-school creative writing club, which meets every Monday.