TCA Links Up With Primary Schools To Support Teaching of Science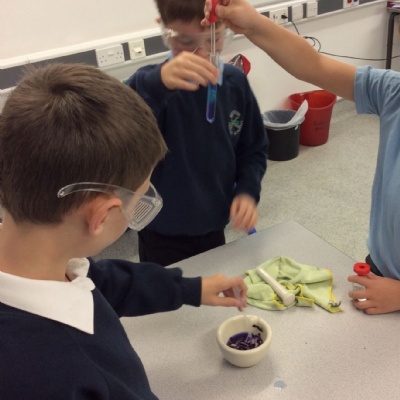 Staff at TCA have been working with primary school pupils to develop their interest and enthusiasm for science.
As part of the initiative, staff led sessions at Murrow Primary Academy on the topic of food and digestion.
The year group's theme is piracy, so TCA staff helped pupils to think about the essential nutrients in food, why pirates might suffer from scurvy and how the preservation of food would have been difficult. A mock digestive system made of tights and mashed up food proved to be popular!
They looked at how bread is made and tested the different conditions in which yeast can rise.
Pupils also examined the make-up of colourings in sweets using filter paper.
The pupils then paid a visit to TCA so they could undertake practical experiments, looking at reversible and irreversible reactions.
So far, the Academy has worked with years 3 to 6, with plans in place to link up with more primary schools in the coming months.
Steve Tarsitano, Director of STEM at TCA, said: "The teaching of science in primary schools can sometimes depend on resources and staff specialism.
"What we're aiming to do is to encourage pupils to plan and think scientifically and develop their investigative skills."
TCA staff have also been working with primary staff on their CPD (Continuing Professional Development) and have been sharing tips on resources which support the teaching of science.
Feedback about the initiative has been very positive.