Alumni
We would love for you to join our Alumni! Joining our Alumni community is a great opportunity for you to engage with current students and staff and spread all the positive news you have following your graduation from the Academy.
If you are a former student, no matter how long ago, we would love to hear from you. Your experiences and stories since leaving us could inspire our current students, making them realise that people like themselves have achieved the great things you have.
Our Alumni network is a dynamic destination where you can share and help out, however much, whenever you want to. Anything you provide would be a benefit to your old school; you could be seen as a career and educational role model, become a mentor both online and in-person through talks with current students, or even become a governor.
Whether you continued your studies through to university, gained employment in the local area or became an apprentice in your dream career it does not matter. Your contribution is invaluable, as no one knows their school experiences, and rewards, better than you.
All we need from you is to complete the sign-up form; it will only take a number of minutes.
And finally, thank you for representing your old stomping ground! Be proud of your roots, just as we are proud to see you blossom.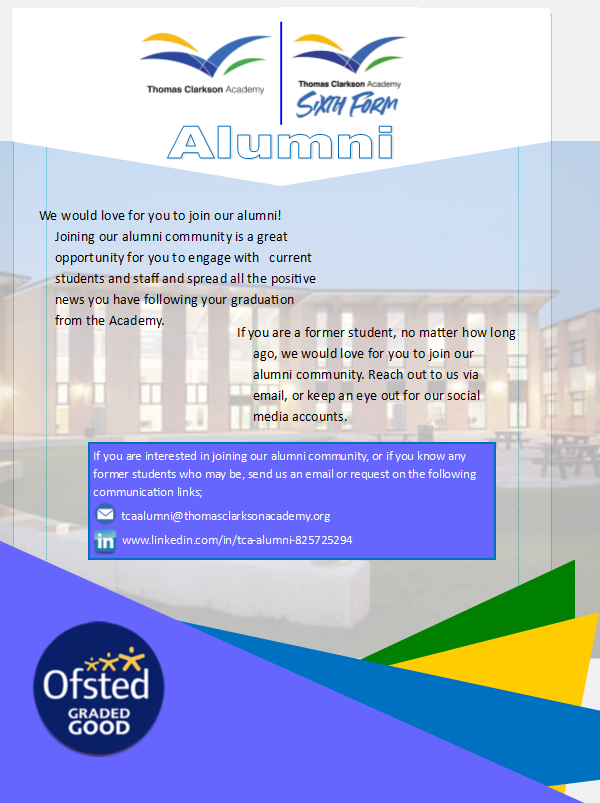 Contact Details:
tcaalumni@thomasclarksonacademy.org