Attendance
Why is attendance so important?
Did you know?
1 day off per month = 2 weeks off per year
17 days off a year = 1 grade lower at GCSE
Thomas Clarkson Academy is a great place to be and all students should attend every day.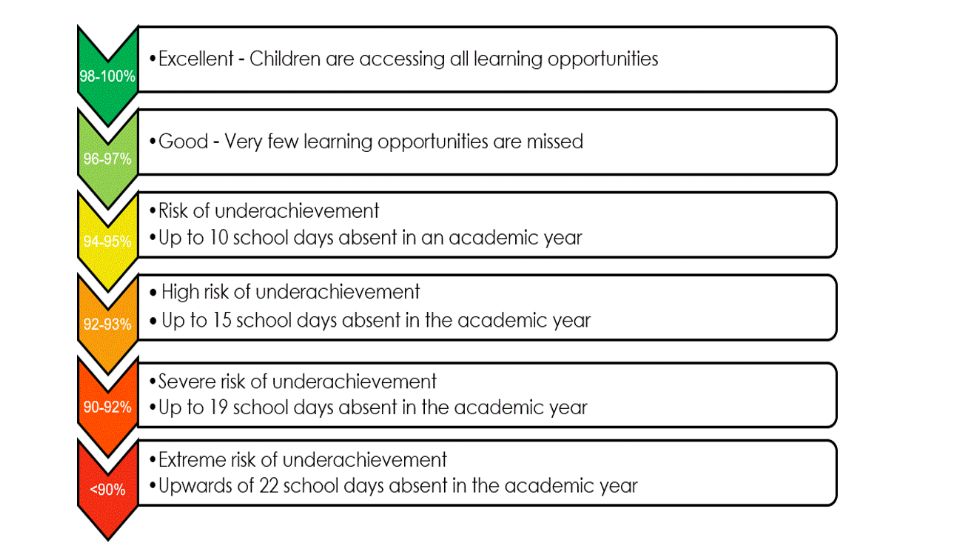 Thomas Clarkson Academy also offers a range rewards for Students with excellent attendance. For each week of 100% attendance students are entered into prize draws. One prize at the end of each half term such as £20 voucher and one prize at the end of term such as £50 voucher.
Parents/Carers responsibilities

Make sure your child arrives at school on time by 8.20am as lessons start promptly at 8.30am.
Parents/carers have a legal duty to ensure that their child receives an education suitable to the child's age, ability and aptitude and any special needs. The only reasons for absence should be through illness or an exceptional circumstance. Every absence must be explained by the parent/carer before 8.30am on the day of absence. Where there is recurring absences due to illness medical evidence maybe requested.
Unavoidable medical or dental appointments - students should return to school after the appointment (evidence may be required). Where possible, appointments should be arranged after school
Days of religious observance
Exceptional family circumstances, such as bereavement
Interview with a prospective employer or college/Academy (evidence may be required)
If your child is having difficulties attending school, you should contact the school sooner rather than later, as most issues can be dealt with very quickly. Please contact you child's Student Services Officer or email office@thomaclarksonacademy.org.
Please find below a link to Cambridgeshire County Council website on Attendance -https://www.cambridgeshire.gov.uk/residents/children-and-families/schools-learning/education-your-rights-and-responsibilities/school-attendance
Reporting an absence

Parents/carers should contact the Academy on the first day of their child's absence before 8.30am and every day of absence following this.
You can also report an absence using the email address attendance@thomasclarksonacademy.org or by completing the form on the Edulink app
Alternatively telephone 01945 585237 and choose option 1 to leave a voicemail message.
If we do not receive an explanation for an absence a text message will be sent from the Academy or a telephone call will be made. A home visit may occur as a follow up action. The absence will be recorded as unauthorised.
Non-attendance and the law

Failure to ensure a child's regular attendance at school is a criminal offence. If with support from the school's attendance officer and/or the Local Authority, your child's attendance does not improve, the Local Authority will consider one of two actions under section 444 of the Education Act 1996:
Penalty Notice. We can give each parent a fine of £60, which rises to £120 each if you do not pay within 21 days. If payment is not received within 28 days from the issue of the penalty notice, we may prosecute you for the offence of 'irregular attendance'. You could then be subject to a fine of up to £1,000 on conviction.
Prosecution in the Magistrates' court. Both parents could get a fine of up to £2,500, a community order or a jail sentence up to three months each. The court may also give you a Parenting Order.
The offence will apply to each child individually. Both parents are liable for the offence. The Education Act considers each 'responsible adult' as a 'parent'. This includes a family friend or relative if the child lives with them and they provided day-to-day care.
Attendance team and Local Authority

The Vice Principal for Safeguarding, Inclusion and Attendance is Mrs A Salmon who works alongside Student Services and the attendance team.
The academy works with Local Authority Attendance Officers from Cambridgeshire County Council. The Local Authority attendance team is made up of different professionals who work together to support families, children and young people. Use the following email to contact the Local Authority Attendance Officers: fis@cambridgeshire.gov.uk.
Further information about attendance and the law can be found on Cambridgeshire County Council website here.
Further advice and guidance on this matter can be located through the Department of Education website.
Student sickness policy – In School Protocol

If a student feels unwell they must report to Student Services who will consider the situation and contact will be made with the parent/carer. The student will only be allowed to go home if they are collected by an adult, who is named on the student's contact list.
Please note: if a student has already phoned home, without following the In School Protocol, the absence will not be authorised.
Further information on medical illnesses from the Public Health Agency can be found here
Lateness

Make sure your child arrives at school on time by 8.20am at the latest as lessons start promptly at 8.30am. Any student who arrives after 8.30am is late.
If your child arrives late to school they may receive a sanction. If your child arrives after the register has closed, this will be recorded as an unauthorised absence for that session unless evidence is supplied that the lateness was due to a medical appointment.
Persistent lateness is monitored and affects the overall attendance figure for each student.
Request for term time absence

BEFORE BOOKING A HOLIDAY, remember you could be at risk of a fine if you take your child out of school during term time.
Penalty Notice information
Cambridgeshire County Council have amended the Penalty Notice code of conduct to take into account the Supreme Court Judgement (Isle of Wight v John Platt) which clarified the meaning of "regular" school attendance as outlined in Section 444 Education Act 1996. Brooke Weston Trust schools will "expect attendance at school to be 100%, unless there are exceptional or unavoidable reasons for absence", which may then be authorised.
In light of this judgement, the criterion of "historical holiday taken" has been removed and referrals for Penalty Notices will be accepted and issued for single event absences of at least 3 consecutive school days or more where these absences are unauthorised. This will be implemented with effect from 1st September 2017.
PENALTY NOTICE
Penalty fine of £60 per adult per child (if paid within 21 days) rising to £120 (if paid after 21 days but before 28 days have elapsed). Failing to pay will result in prosecution.
Prosecution in the magistrates' court. If convicted, both adults will be punished by the courts, resulting in a fine for each adult and / or up to 3 months custodial sentence.
Click here for a term time absence request form.
Referral for Term Time Leave
Any parent who takes a child out of school for term time leave for 6 consecutive sessions (3 days) or more, not authorised by the school (under exceptional circumstances rule), may receive a Penalty Notice.
Schools may also request prosecution, in exceptional circumstances where a parent takes a child out of school during term time for an extended period (20 days or more).
Severe weather information

SEVERE WEATHER PROCEDURE
It is always our policy to try to keep the school operational, however, it may be necessary to either run the school buses early or even close the school to all staff and students in the event of severe weather.
Any student who does not attend school because it has snowed, will not have his/her absence authorised. However, if the school is closed due to severe weather, then all absence will be authorised.
Whenever possible the academy is kept open but the safety and welfare of the staff and students are of course, paramount. In the event of it being necessary to close the school, for example as a result of severe overnight snow, information will be given out on the following radio stations shortly after 7.00am:
BBC Radio Cambridgeshire
Heart 103 Cambridgeshire/Heart 102.7
Star 107 FM Radio
Greatest Hits 96.7
Details will of course be available on the TCA website. If possible a communication will also be sent by text using our automated system. Please ensure that you check this information yourself before assuming that school may be closed. We have previously asked you for your permission regarding your son/daughter's journey home from school during these situations. If you feel these details or any of your contact information may be out of date, please contact the school as soon as possible.
If, and when the snow arrives, we are more than happy for our students to come to school wearing boots or alternative appropriate footwear and change in to normal footwear on arrival to school. We would encourage all students to wrap up warmly in winter coats, scarves and hats.
Please ensure that your son/daughter knows the arrangements you have put in place for their safety should such an event arise.