Recruitment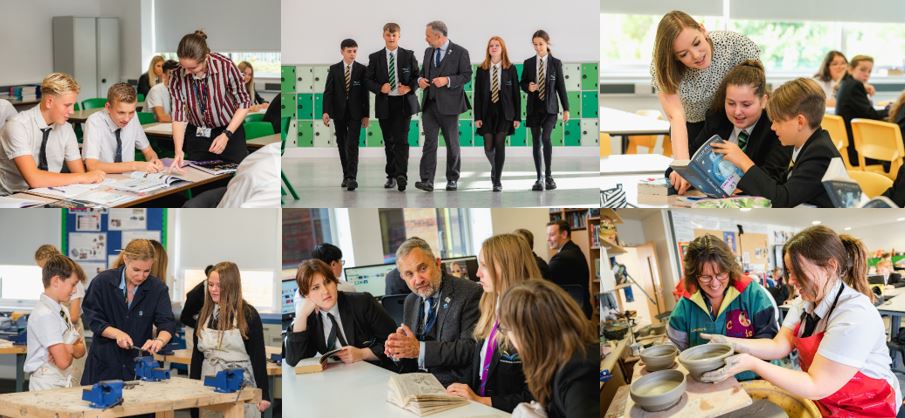 Why work with us?
Thomas Clarkson Academy is highly ambitious for all its students, their families and our staff. We are proud to be a multicultural community that embraces the Brooke Weston Trust ethos and puts excellent progress and the personal development of students at the heart of everything it does. We believe wholeheartedly that every child has the potential to become a global leader in any field they chose to pursue.
We are building a dedicated team of teaching and support staff; a staff body that will inspire, promote ambition and instil belief in the mind-set of our young people that anything is possible through hard work, commitment and dedication.
We are fast becoming an employer of choice, providing excellent professional development for staff in order to create an outstanding place for all to work and learn. We offer staff development and career progression opportunities which go beyond the school walls; fostering talent is a key aspect of our culture.
For details on the current job opportunities at Thomas Clarkson Academy, visit our vacancies page.
Helping our staff to settle in
All new staff that join our academy are openly welcomed and introduced to all areas of school life through a bespoke induction programme. We understand that starting a new job can be both exciting and daunting and that this transition period can be made more manageable and pleasurable if dedicated time is given to familiarise yourself with the surroundings, academy staff and our students. The induction programme includes meeting all members of the Senior Leadership Team, HR team, Safeguarding team, Staff Services and Student Services teams, amongst other key groups of academy staff that will all be available to assist you as you establish yourself in your new role.
We will share with you Trust-wide and academy policies and procedures, health and safety guidelines and expectations, child protection procedures, HR and administration matters as well as allocating dedicated time for you to spend with your Line Manager and department colleagues. There will be an observation period, where you can shadow your colleagues and in the case of teaching staff, shadow students and potential classes. The purpose of this programme is to give you the thinking time and space before embarking on the exciting journey ahead.
There is also a dedicated induction for overseas staff to fully support them as they embark on their new role in a new country. It includes an induction into teaching in the UK along with practical support, such as assistance with finding accommodation and help setting up a UK bank account. They are also invited to a special welcome with other overseas staff.
Training opportunities and personal development
We pride ourselves on offering CPD to all employees, not just teaching staff.
Around 15-20 mandatory training sessions for ECTs and Teach First staff take place throughout the year.
There are also frequent whole-school CPD sessions during the course of the year, some of which are differentiated depending on need. They usually have a teaching and learning focus linked to the academy's expectations and strategy.
Every Tuesday, there is some form of training going on, whether that is whole-school CPD or departmental training.
Staff can also benefit from opportunities available through the Brooke Weston Trust Ambition Hub. The Ambition Hub will provide professional development opportunities for staff with diverse roles across the Trust, as well as for staff at differing career stages. There are courses offered for both Teaching and support staff and cover the themes of teaching and learning, leadership, safeguarding and other wider topics.
As well as teacher training programmes, within the Ambition Hub we have the Teaching School which offers NPQs (National Professional Qualifications) in partnership with Ambition School Leadership to enable staff to progress to middle leader, senior leader and headship roles.
Another key element is the school-to-school support offered by the Teaching School. Specialist Leaders of Education and Local Leaders of Education work together to drive continued school improvement.
The benefits of working at Thomas Clarkson Academy
Laptops issued to all teaching staff
International teaching staff
Support from the Brooke Weston Trust with opportunities for close working with other schools and staff within the Trust
Subsidised meals for all members of staff who chose to eat in our restaurants and Dining Areas.
State of the art facilities in a modern, open building
What Ofsted has said about us
TCA was graded as Good following its most recent Ofsted inspection (January 2020).
Inspectors noted:
'The school is well led. The dedication of leaders and governors to the school, the pupils and the local community is impressive.'
'Staff are proud to work at the school.'
'Leaders have made substantial improvements to the quality of education for pupils since the previous inspection.'
'Leaders have high expectations of all pupils and what they can achieve.'
'Relationships between staff and pupils are very positive. Staff increasingly motivate pupils to work hard and try their best.'
'Leaders have designed a curriculum that helps pupils to succeed.'
If you want to know more about what it's like to work at Thomas Clarkson Academy, read what some of our staff have to say on our Staff Profiles page.
Click on the video below to get a taste of life at TCA: