Library services re-open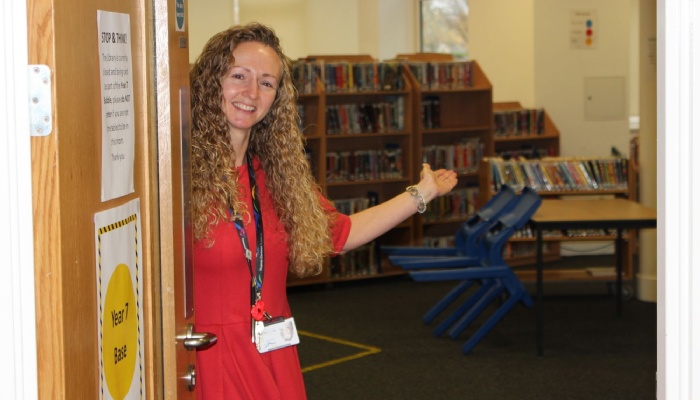 Librarian Miss Robinson is delighted to announce that library services have resumed, with things being done a little differently to allow students to safely borrow books again.
This week the new services to each year group are being launched and there has already been good uptake.
Year 7 – Library re-opens to Year 7
The library is now open to Year 7, with students able to visit the library on Monday lunchtimes from 12.50 – 13.15, and from 13.10 – 13.35 Tuesday to Thursday lunchtimes.
They can borrow up to four books of their choice, at least one should be an Accelerated Reader book within their level (ZPD range). Books can be borrowed for two weeks.
Year 8 and 9 – Mobile library service
This is due to start with Year 8 on Monday 23rd November 23rd during break/tutor time (10.30-11.10) from Monday to Thursday, alternating each week with Year 9.
Small groups of students will be able to visit the mobile library located in the year group base area.
Key Stage 4/5 – Click and deliver service
Older students will be able to request a book by emailing Miss L Robinson with details of the title and author of the book they would like to borrow. Students should title their email 'Library Book Request' in the subject box.
Books will be delivered to students' form tutors, marked for their attention and can be kept for two weeks. Books for return should be placed in the 'book returns' box located in their year group base area.
Students can search the library catalogue for both fiction and non-fiction books by accessing Eclipse via RM Unify – click here for details.
Mis Robinson said: "I am absolutely delighted to be able to complete physical book loans to our students. It will be a very different way of working, with students following a different process depending on their year group, but it's absolutely fantastic that students across all year groups in the academy are now able to borrow books again. Students will of course still be able to access the free digital books and resources I have been promoting, however it was encouraging to see so many students keen to borrow a book, and even enjoy having queues of students back in the library again! I have lots of new books in the library and am excited to hear what our students think of them."